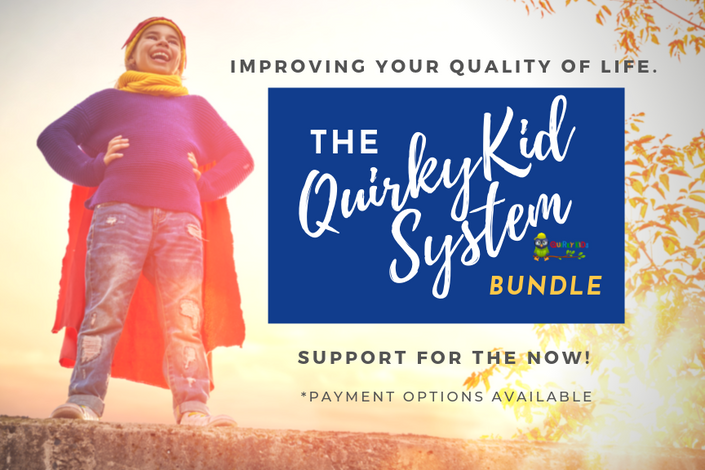 Quirky Kid System Bundle
Our parent coaching program that helps you address the root causes of your child's learning and behavior issues.
I'm Ready to Get Started
Where do your child's challenges come from?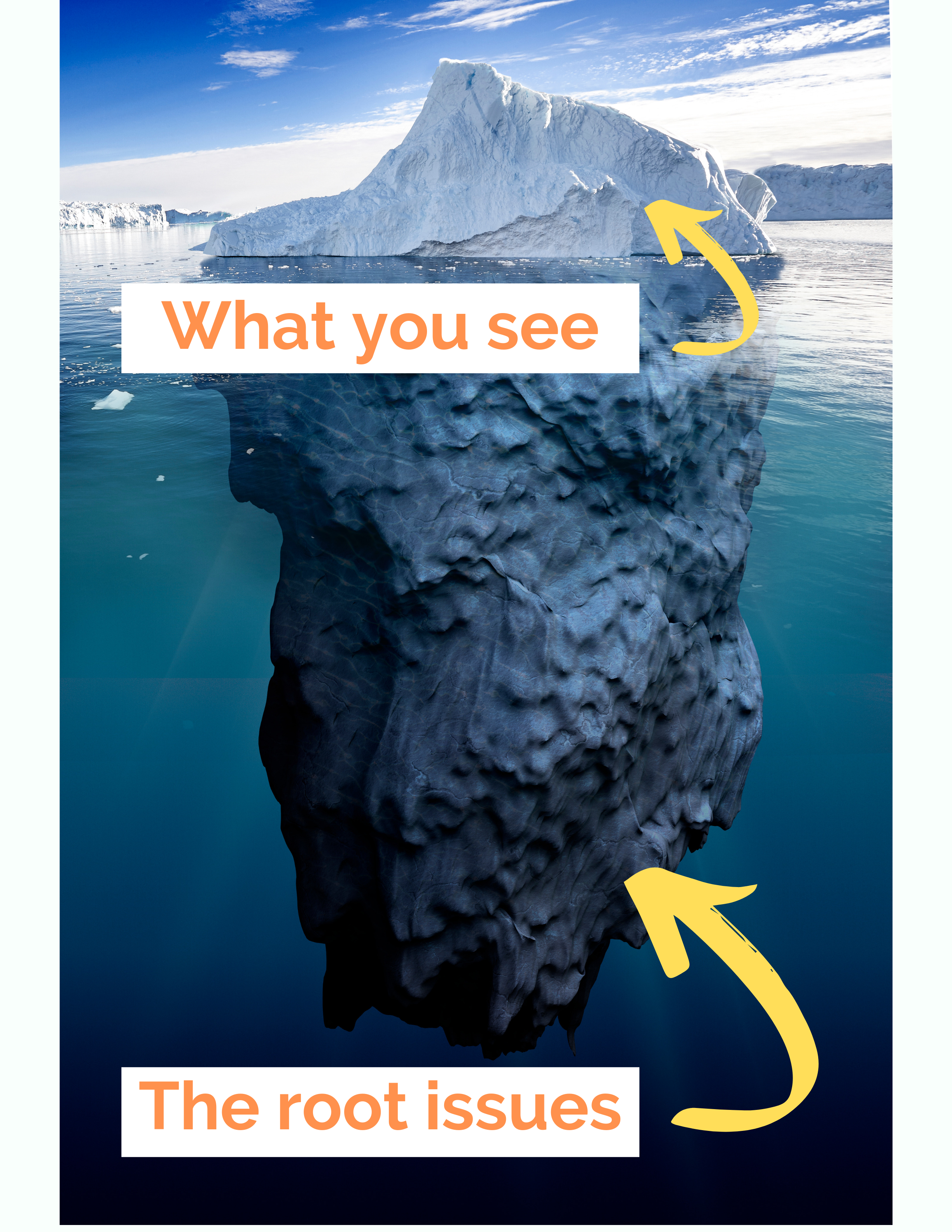 You can clearly see the "symptoms" of your child's behavior, health and/or learning issues.

BUT DID YOU KNOW...

There are actually root causes that create these issues!
The Quirky Kid System is an innovative program that takes parents on a journey of discovering and addressing these root causes.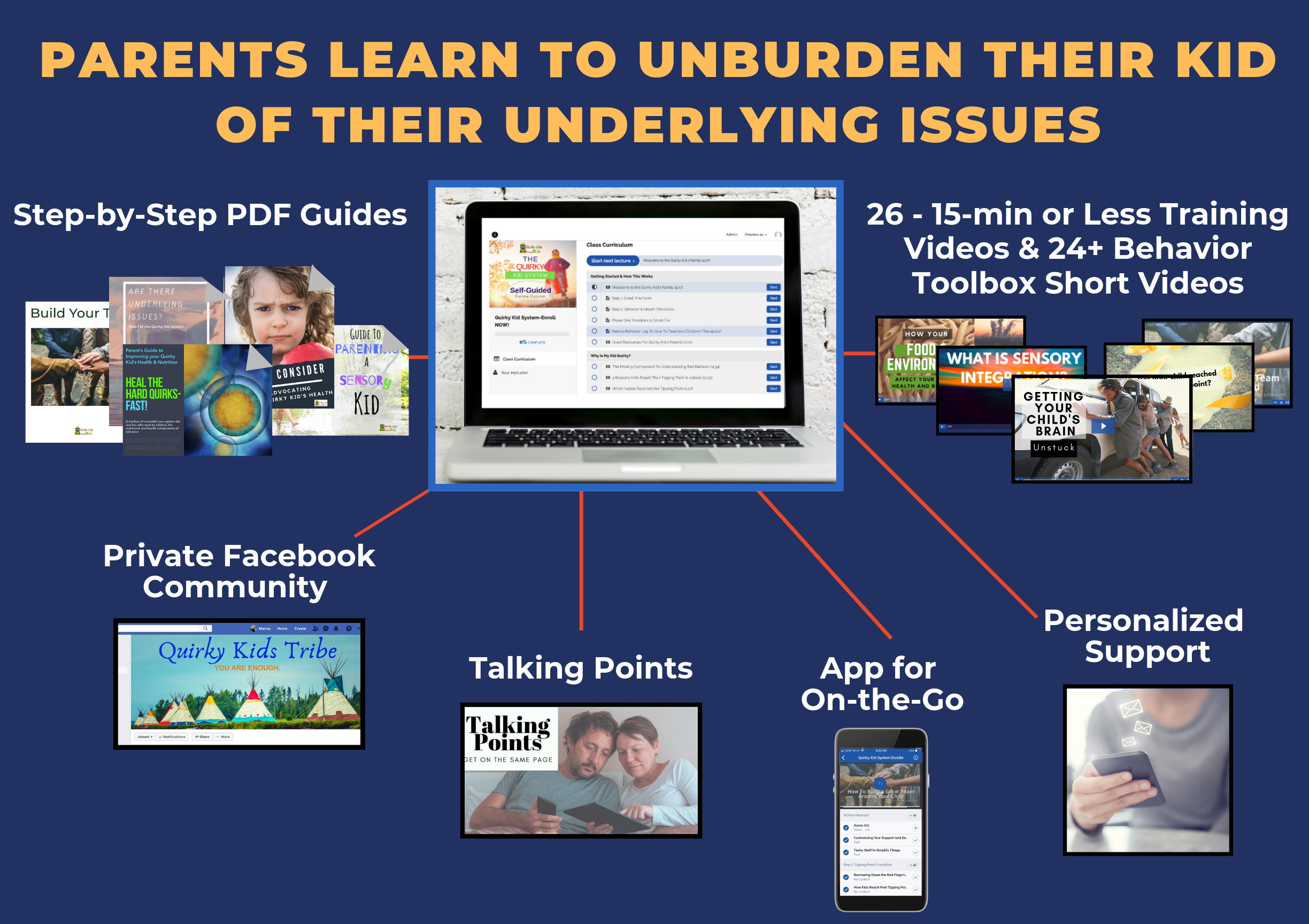 The Quirky Kid System Bundle

Equips Parents to Address:

Allergies or food and environmental sensitivities
Digestive health and bathroom issues
Motor skill and reflex development
Blocks to reading, writing and problem solving
Constant flight, fight and freeze responses
Brain health deficiencies (amino acids)
Anxiety disorders or responses
Skills that they should have but don't
Social and communication skills
*Check out our Village program if you want to go through the Quirky Kid System with private coaching from Marisa and LIFETIME community support & resources.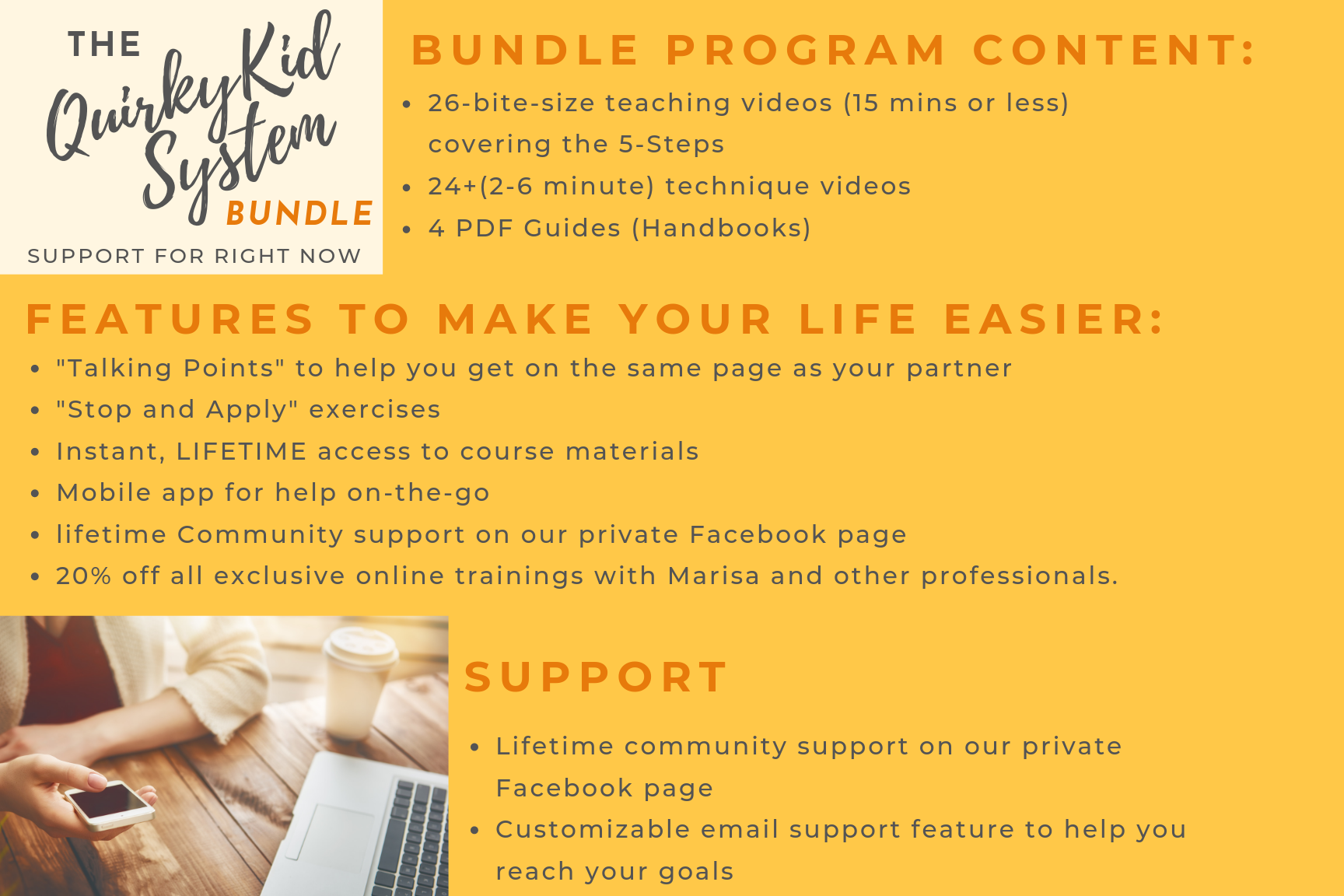 Our strategic 5-step, cost-effective plan:

Brings quick results, saving critical time so your child's skills can catch up ASAP.
Saves much needed energy

--STOP doing things the hard way!
What could take you YEARS to do on your own, takes

many of our families only *3-4 months before they see

MASSIVE, lasting changes.

*Research shows it takes a minimum of 3 months to heal the gut and to change deeply rooted behaviors. We have ABSOLUTELY found this science to be true as many of our families report important changes happening within this time-frame, with even more progress made within 6 months.

Addressing these root issues can be OVERWHELMING!

I have taken much of the stress AND WORK

out of making this happen for your family.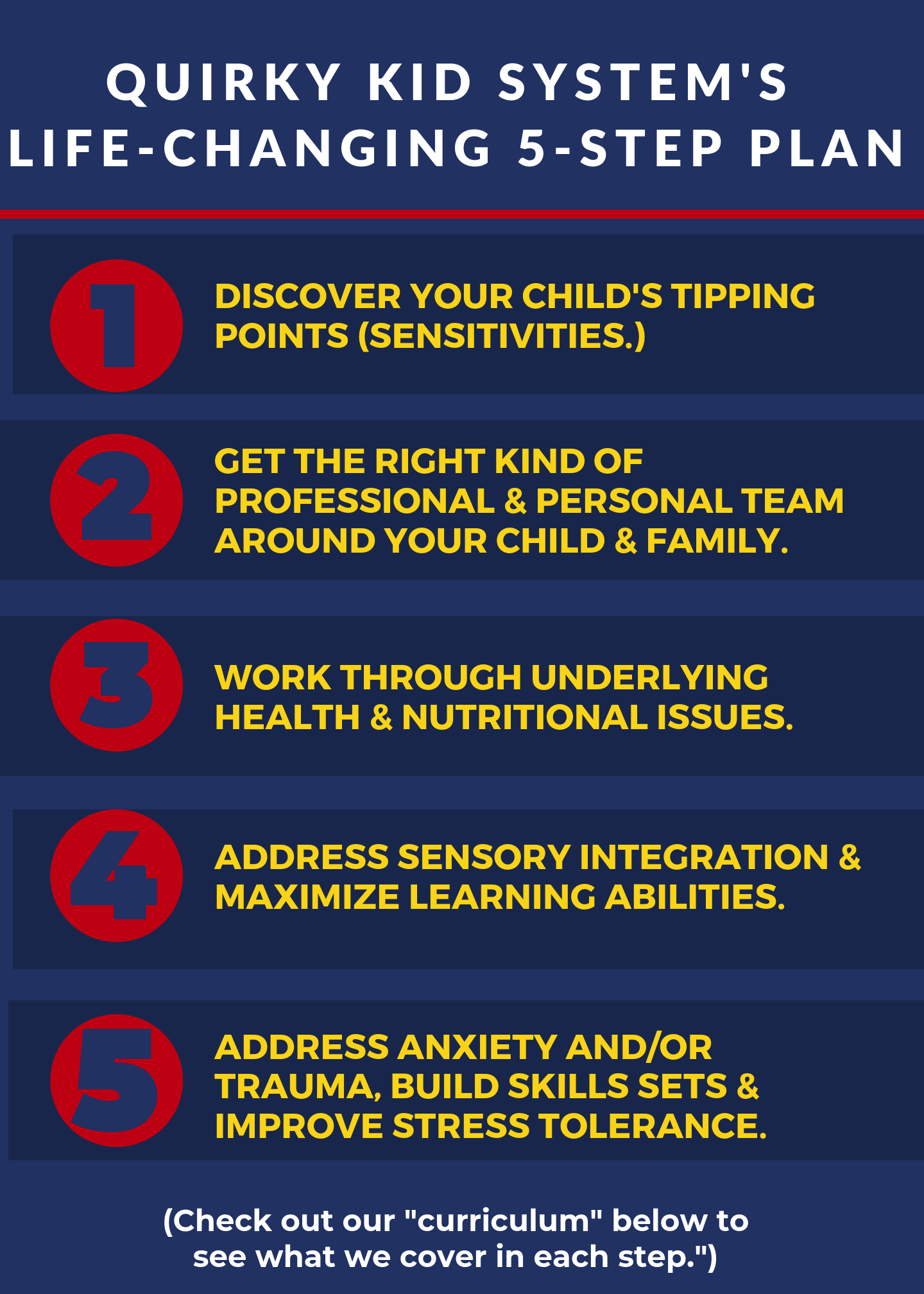 The course content below has drastically changed the trajectory of many children's lives.
Consequently, it has also changed the lives of the parents who love them.
I will introduce you to some of those parents in a moment.
Course Curriculum
Hi From Marisa!!
Available in days
days after you enroll
Step 1: Tipping Point Checklists
Available in days
days after you enroll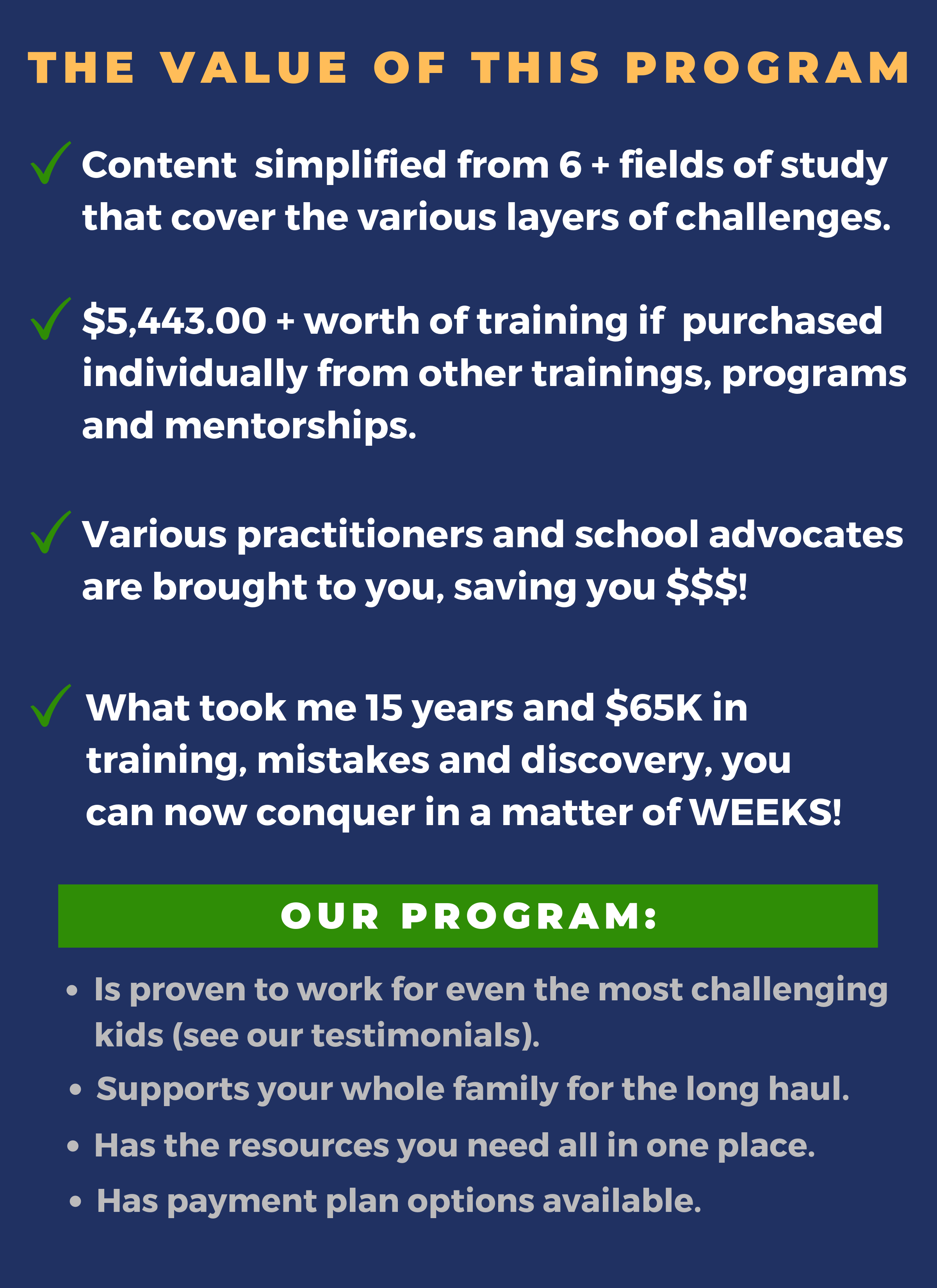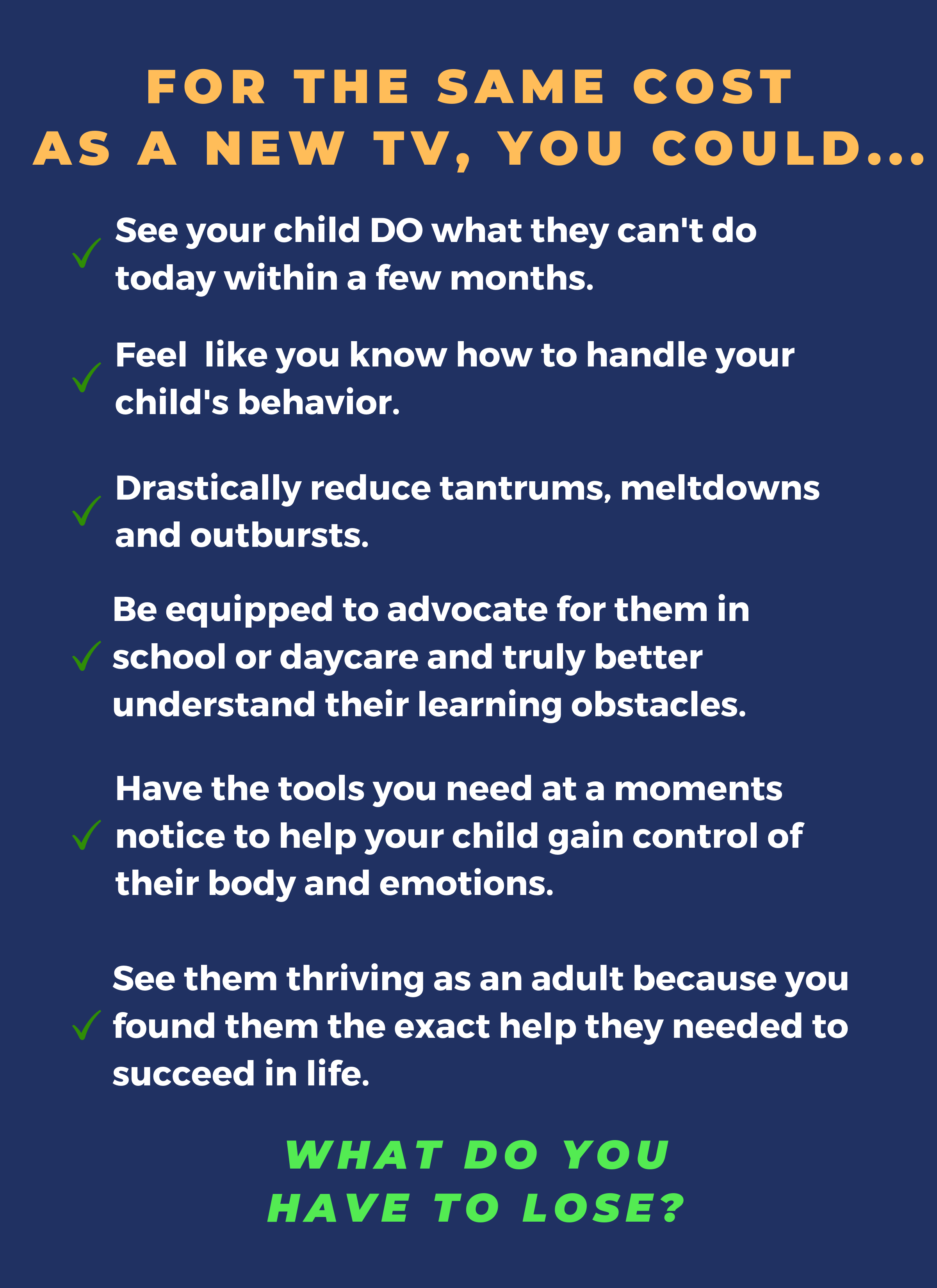 What happens if we already are doing some of these things?

Let me ask you a question...how are they working for you? If what you are doing is not bringing MASSIVE changes, it's simply because the "magic" happens when you attack these issues in a systematic way. Trust me...I've tried it every which way with a ton of kids. Each of these steps and the support I give will help you pull all the pieces you need together!
What Type of Parents

Have Purchased the Quirky Kid System?

We are actively helping a community of parents who wanted to have hope for their kid, but they needed some evidence that this hope wouldn't leave them crushed. They needed practical guidance that was tangible to them in the moments that they needed help and they had to be able to go through the course in the midst of their already overwhelmed schedule.

Parents in our program currently have kids with:

Chronic behavior issues but no diagnosis

ADHD, Autism, OCD, PANDAS
Chronic illnesses & digestive issues
Attachment disorders & genetic disorders
Chronic potty training issues
Foster/adoptive related trauma & FASD
Learning

delays and disorders
They are now equipped parents with testimonies like these...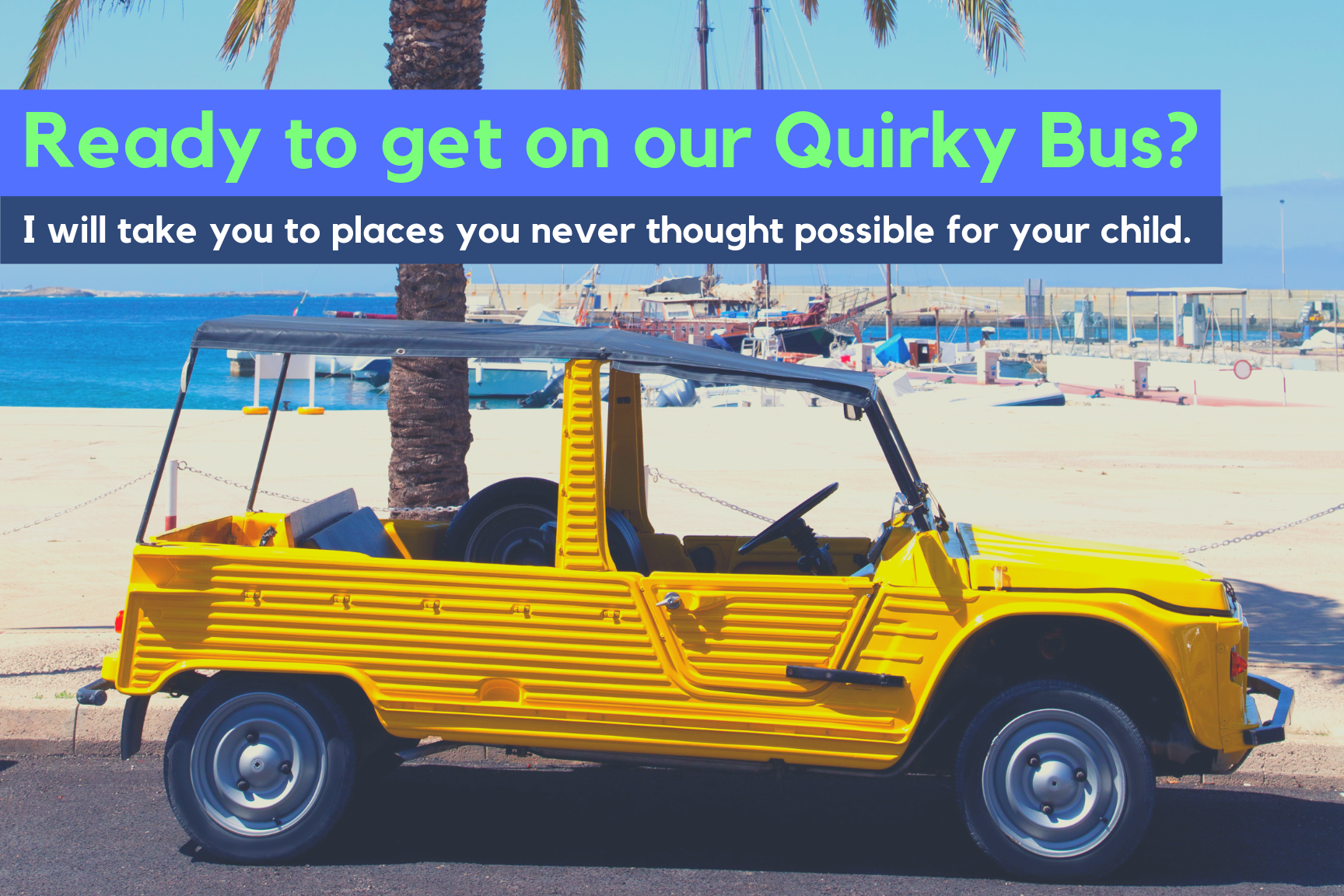 Your Instructor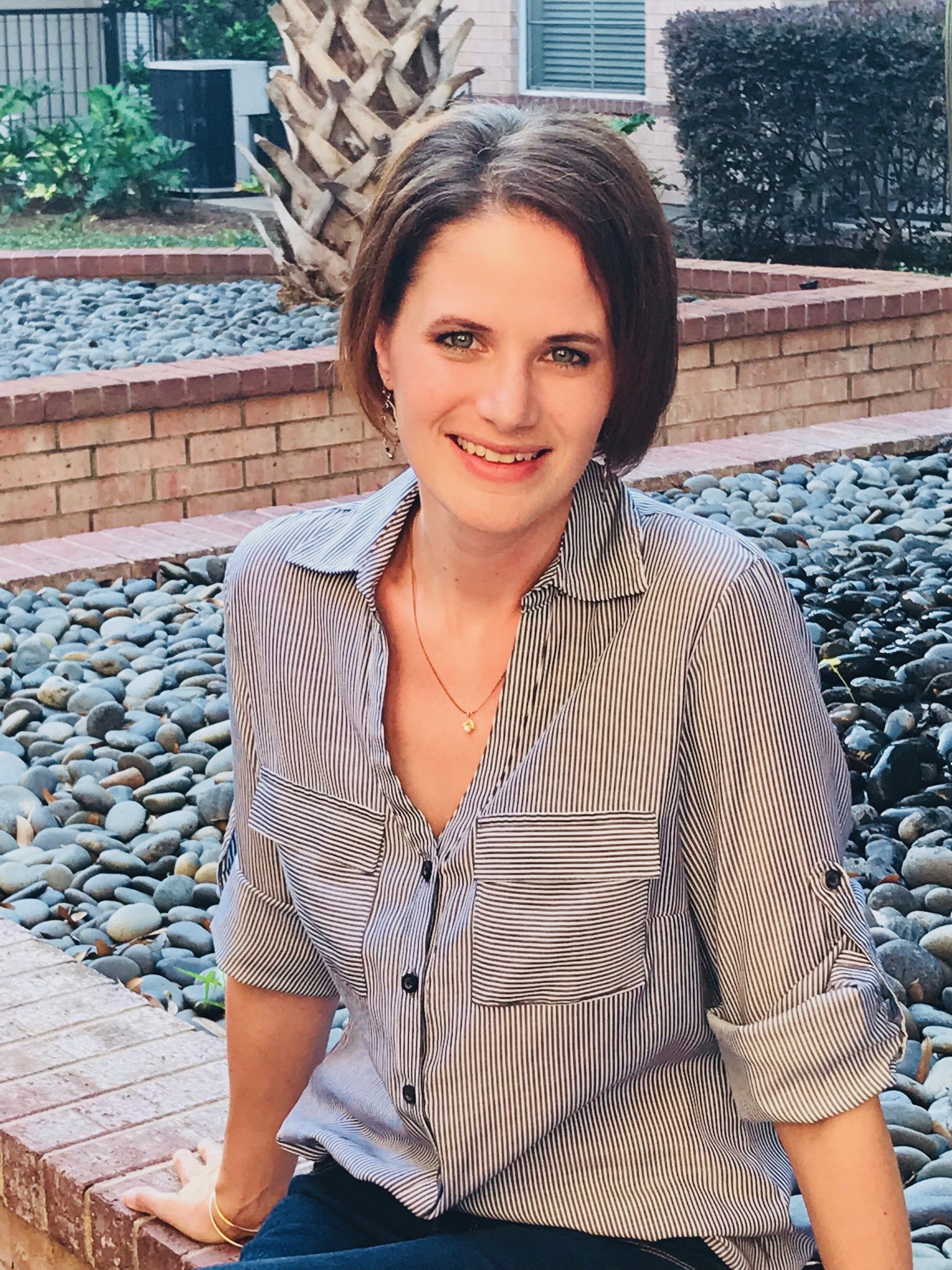 Hi! My name is Marisa Rodriguez and I am the founder of Quirky Kids, the mom to two crazies and the wife to my superhero, Jacob. We also have a whole bunch of kids that we have loved and taken care of all over the world.
I founded Quirky Kids because I was a quirky kid, and like many of the kids I have worked with, my challenges were often misunderstood. I had what I thought was ADHD, sensory issues and auditory and visual processing delays. As an adult, I began to understand and address the same underlying issues that I now help parents navigate. Through the help of Amen Clinics, I was officially undiagnosed with ADHD, properly diagnosed with moderate-to-severe anxiety and depression and treated with 2 over the counter supplements that CHANGED MY LIFE! Now that I know how my tipping points work, I have overcome ALL of my limiting challenges.
My training and experience are extensive. I have worked with extremely challenging children in 22 different countries. My husband and I have fostered and cared for many children in our own home, and I worked in the school system. I am a Certified Brain Health Coach through Amen Clinics and an Empowered to Connect Parent Trainer who's training focused on the work of Dr. Karyn Purvis. I hold several other certificates and have completed training from other organizations including, the Mindsight Institute with Dr. Dan Siegel, Epidemic Answers, Handwriting Without Tears, CPI Nonviolent Crisis Intervention®, and I was a member and have received training from the STAR Institute for Sensory Processing Disorder. Throughout the years I have also relied heavily upon the work of Dr. Ross Greene, author of The Explosive Child. I am mentored by and communicate regularly with professional colleagues in the field of functional medicine, psychology, public school services, ABA, Occupational and play therapy and various medicinal and holistic treatment options in pediatric nutrition, sensory integration, foster and adoption-related trauma, ADHD and anxiety in children. This year I will finish my training to become a Certified ADHD Professional (ADHD-CCSP).
I have been given a great gift, freedom. It is my honor and privilege to bring other children and parents the same hope and healing that I now live in daily.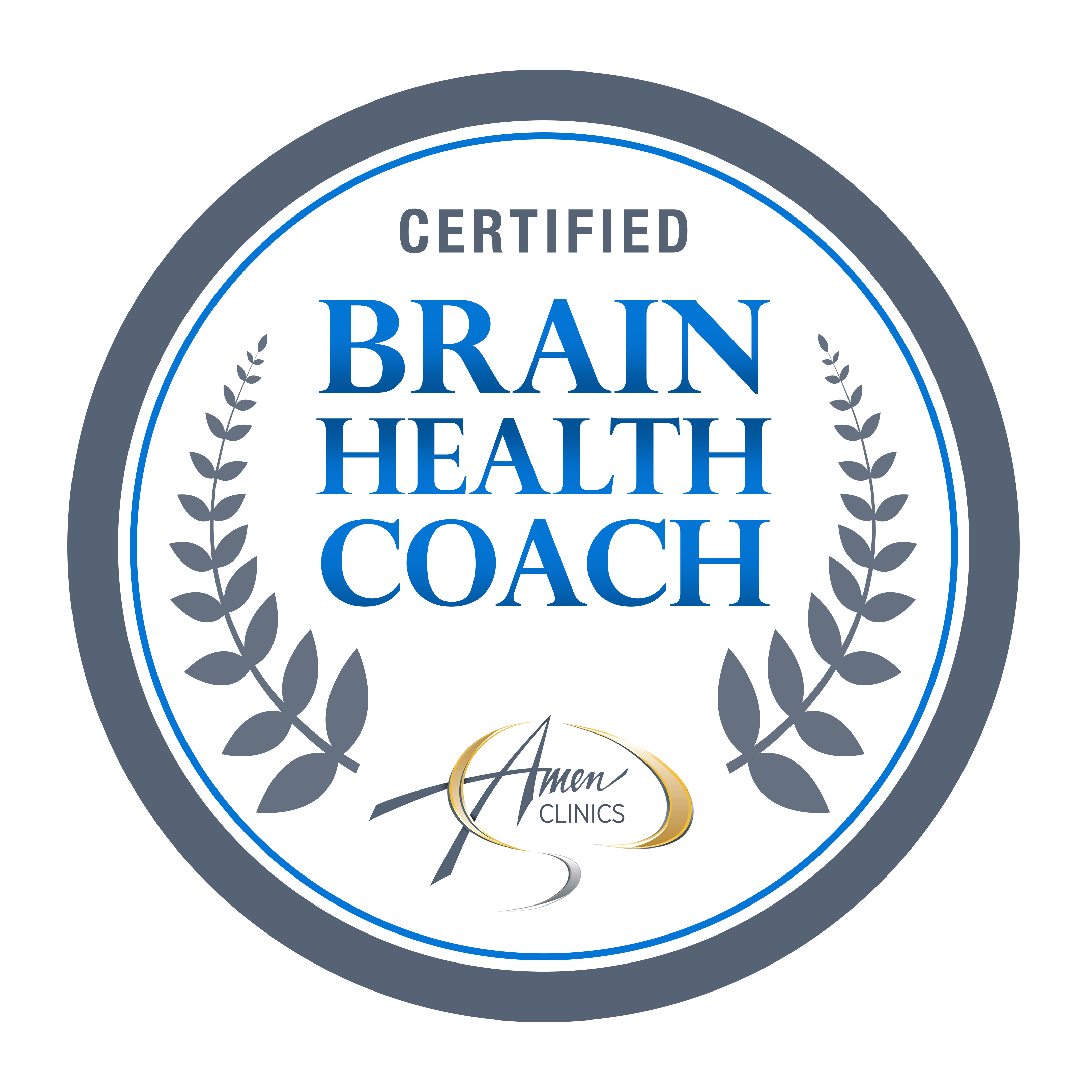 Frequently Asked Questions
When does the course start and finish?
The one-time payment plan you have instant access to the entire program. Our payment plan options give you instant access to steps 1, 2 and your behavior toolbox. You have lifetime access to course content and our online community and can continue to utilize our resources for years to come. We add to the behavior toolbox regularly.
What age group is this targeted for?
The majority of my clients are between 2 and 12 years old. I target my examples to this age group, however, parents of children of all ages have utilized the program. In our most recent update, I have included information to also help the parents work through some of their tipping points.
What if my child has a diagnosis?
This program is geared for typically developing children with constant behavior and health issues AND for children with diagnosed behavior disorders.
Are you a therapist?
On purpose, no I am not. I consult with various specialists, therapists and professionals throughout the country and pull together resources from various fields in efforts to bring hollistic solutions to multi-factorial behavior issues.
How much time before I start seeing results?
No results can be guaranteed. When working privately with clients I walk them through this program in 3-4 months, and most families start seeing significant changes within a couple of days to a few weeks. It takes a minimum of 3 months for a person's gut lining to heal, and 3 months to change neurochemistry and brain patterns. Some clients in the Quirky Kid's System have to take things a little slower for various reasons, which is why we created the program to be self-paced.
Can you guarantee results?
I cannot guarantee specific results and I would be cautious of anyone who could. Kids continually trend a certain way with specific interventions, but every child is different. My hope is that you would see improvements within 3 months of applying what you are learning.
What is the goal of the program?
To help parents identify and address your child's "tipping points" with the latest research, meaningful support, options for care and encouragement from our like-minded community of parents. After your whole family is (hopefully) doing better, it is my goal to help parents maintain progress, continue giving parental support through our community and help family's overcome future hurdles so their child can live their best life.